TOP TIER SCHOOLS
1031 EXCHANGE
DOWNTOWN CONDOS
INVESTMENT PROPERTIES
GORGEOUS LOTS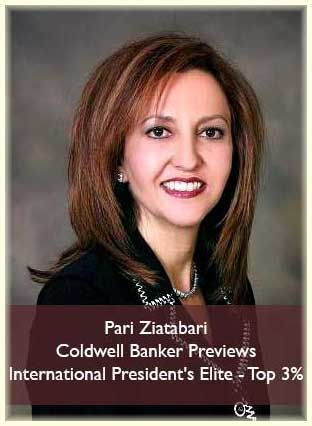 A graduate of Drexel University in Philadelphia with a Bachelor of Science degree in Civil Engineering, Pari Ziatabari has a commanding knowledge of structural details.
​Learn more about
The Pari Estates Team
26 Years Experience Selling Real Estate in Rancho Santa Fe and Coastal San Diego
Pari's dedication to her clients has earned her awards of distinction within the real estate community. A resident in Rancho Santa Fe since 1989, she has been active in her community both professionally and personally. In addition to holding an International President's Elite - Top 3% designation, Pari is a Previews Property Specialist and a Certified Negotiation Specialist setting her apart from her peers. Pari is thorough, diligent, energetic and an excellent negotiator. Pari's track record, bringing buyers and sellers together speaks for itself.
Browse our featured Rancho Santa Fe Homes today!
Search Rancho Santa Fe Homes
Read What People are Saying about the Pari Estates Team
"Relax. You can enjoy the real estate process with Pari Ziatabari. Pari Ziatabari is like an ever-ready battery-energized, ready to help you find a home or an investment property. Her mind is sharp, her spirit fun, and her heart full of care for you as a person."
- Barbara Brown
"I'd like to take this opportunity to acknowledge Pari Ziatabari as an outstanding real estate professional. I have purchased and sold homes with Pari 4 times in the past ten years. Consistently, Pari is not only knowledgeable about the housing market, but she really takes the time to understand my family's needs and delivers every time. She is very caring and pays attention to ALL details and is truly a creative problem-solver."
-
Mandy Mobedshashi
ESTATE OF JOAN KROC
LISTED AT $28,000,000
The 12.5-acre estate, originally listed for $28 million early last year, was part of a $1.5 billion bequest made by Kroc to the Salvation Army to build more than two dozen community centers across the country.
Properties in Rancho Santa Fe
See our latest mortgage news and rates for 30 year, 15 year, jumbo, fixed loans and more! Last Updated: 03-02-2015

See This Weeks Numbers